It's crazy to think that I've been at this on and off for almost three years now. The differences the whole primal/paleo thing has made in my life is immense, even if I haven't always been very good at it. I was just curious to compare so I popped back to this old thread and did some measuring.
So, when I started this journal (bearing in mind I had already lost ten pounds primal), I had just turned 29, my stats were:
187 lbs
c:40" w:32" h:46"
37% body fat according to the link in my first post.
Since the last post I had major life upheaval, moved to New Orleans last May, and have been having perhaps an unhealthy amount of adventures (grits, red bean and rice, snowballs, omg, southern food!), but have been biking everywhere and getting tons of sun...
Now, I turned 31 last week, still 5'8" ("wish I was a little bit taller, wish I was a baller...") Last time I weighed myself, which was probably two months ago-
165lbs
Measurements taken just now-
c:39" w:28.5" h:41.5"
Aaaand, 28% body fat. Alright, not bad!
And then I was inspired to snap a quick pic: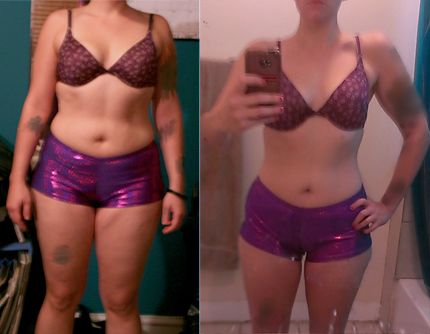 This has been a year of Not Even Trying. Ending a relationship, starting a business, closing a business, moving to the delicious South (and the most drinkinest city ever there was), starting a relationship, starting a business, ending a relationship, closing a business, and all of this while basically having no stable living situation and being dirt poor. Eating well and sleeping enough got the short end of the stick. But I think enough primal lessons have stuck that I made progress anyway. It's pretty exciting.
So, maybe in the course of this year I can get my body fat down to the low 20s, build a lot more muscle, perhaps achieve my goal of being Red Sonja for halloween (Or next Mardi Gras!). I'm not rushed or pushed. Looking back over this thread has made me really happy with what progress I have made.
Another pretty awesome byproduct of both turning 30 and moving to New Orleans was entirely running out of fucks to give. Seriously. I have been chubby and terribly self conscious all of my life, and all of a sudden, bam! SO fucking what? Wear shorts? SHORT shorts? In public?! With all my dimply thighs hanging out? Oh, yeah dude, it's 90 degrees out, no problem (Walking through the Quarter one night, an older black gentleman passed me and grinned wolfishly, "GIRL! You got mo' thighs than Popeyes!" Made my night). It is glorious and freeing and feeling comfortable in my own skin, fat ass and all, is a great gift. Not to say I don't still have my moments, but they are fleeting.
Ah yeah, just felt like I owed myself an update.