didn't update yesterday...let's see:
B: yoghurt, sultanas, coffee
L: leftover frittata
D: chili, sour cream, cheese
Went to the local shops for a mooch and because best friend insisted I buy myself a little something-something with my payrise. Came back with an armful of clothes...for small boy.
Bought best friend a tiny something-something instead: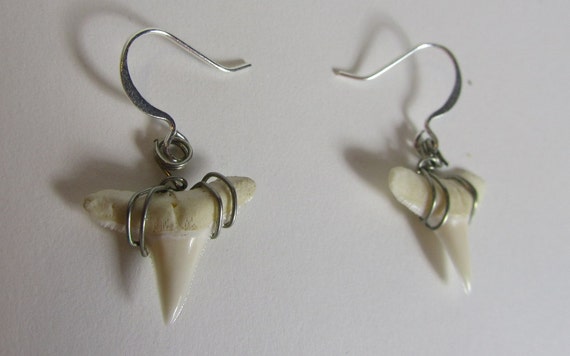 After some thought, decided that I'd like a pair for myself too (don't usually do earrings, but these are *too* AWESOME to forego). Nope, no more available. Spent several hours down the Etsy rabbithole looking at ugly sharktooth jewellery until I began to doubt my sanity.
Today:
B: eggs (shared with small boy - probably 1.5), coffee, few tanas (kiddie crack as us mums used to call them)
L: roast pork (fennel seeds and garlic), crackling, roast snips, roast carrot, roast beets and roast brussels (= heaven)
made a soup of the leftover carrots and snips - coconut milk, turmeric, cumin, chili, ginger, fenugreek
D: chili (boys are having nachos)
Husband has introduced the small boy to the joys of tabletop miniatures and roleplay. I am both filled with love and alienated - my life with XY geeks.
Made yoghurt - possibly the best batch I've ever done. Looking forward to breakfast tomorrow. I've just finished plowing through I, Claudius and - light relief - am now rereading Love in a Cold Climate.