A saga is defined as: a long story of heroic achievement
It's hard to believe that my saga would only just begin at the age of 27, but here we are. I would like to preface the remainder of this first post by saying that if you don't care to read my whole story, please feel free to skip to the end for cliff notes.
My name, as suggested by the title, is Jim Martyn. I am 27 years old and I'll get into where I'm at now, but I suppose it's best to rewind and do this chronologically.
I was born in Edmonton, Alberta, Canada to a loving mother and father. I have one older brother (11 months, 17 days, 12 hours and 10 minutes older I believe), and I have more respect and love for him than possibly anyone else I have met in my entire life (sorry Mom and Dad, rest assured that you're both up there and you will have the most luxurious of retirement homes
).
Growing up was great, albeit different. My father is a military guy, incredibly funny, and kind. He has a PhD, is a reservist Major in the Canadian military, and has always been incredibly hard working. My mother is beautiful, gentle, very hard working, and the most kind, modest person you may ever have the pleasure of meeting. My brother is an inspiration to me (although I'll never tell him that, the bastard!). I have no better way to explain him than to say that he is INCREDIBLY good people. He works hard and is honest to the core. I think a large part of his inspirational factor is the fact that he was a bit of a misguided kid who got in some trouble growing up, then turned out to be the most outstanding person around and never talks about himself or his virtues.
Anyways, having a father in the military meant a lot of different postings across the country, so we moved often. I can't name everywhere that I lived, because my memory just doesn't serve me quite that well, but here's a decent list: Edmonton, Winnipeg, Trenton, Ottawa, Petawawa, Chalk River, Merickville, Elmira, Capelle a/d IJssel (Netherlands), Kingston, Toronto, Prince George, Hinton, Vancouver, Edmonton, Grande Prairie, Edmonton.
That is assuredly about half the list, but it's not too important to struggle to expand it any further. My parents are both very healthy individuals, or at least have been for a great portion of my life. Dad's a bit of a chubby fella now, but he loves his wings and beer and the military handed him more of a desk job, so it happens (sorry again dad). I wish that I had listened to him sooner when it comes to health and fitness, but boys will be boys.
Anyways, I won't get into TOO much of my history in this initial post, because that would be a novella in and of itself. Onto why I'm here. It's simple really.
I'm fat.
I'm not shy, and I'll attach a picture of myself at my weigh-in at the end of this post, because it's great to be honest with yourself about where you stand. I'm 6'5", so I have been blessed with a frame that can support up to 300 lbs a lot easier than most. However, being that tall, and not taking care of yourself, is a recipe for chronic joint pain and injury. I experienced the worst of it about a year and a half ago when I slipped on a patch of ice and broke my fibula. I was working on crutches for about 6 months, and to be honest I haven't fully recovered (I hope mom never reads this, because she will not be impressed haha).
I still have bruising around my ankle because of the damage, but the pain is gone.
The peak of my weight gain was about 6 months ago I weighed in at 304.6 lbs, and now I weigh 294.8. This was not because of any effort to lose weight, it just happened I suppose.
I've never tried dieting per se, and I've never really been a fit guy. I wasn't as into sports as I should have been, I've never been a gym fanatic or anything. I grew up with a tall, skinny (then average) build and I was happy like that. I ate whatever the hell I wanted, cracked jokes, treated people well, and that was more or less the story of my existence.
I want to stop here to say that I am incredibly happy with my life. But I don't want that anymore. I've had that for 27 years. I want to be in complete and utter disbelief at how unbelievably phenomenal my life is. I will not fail. I will not make excuses. People who say they can and people who say they can't are usually both right. I CAN. And I will.
Here's the cliffs of my life right now and where I'm going (including content not earlier mentioned):
- I am 27 years old, 294.8 lbs, 6'5"
- I started a 21 Day Primal Challenge yesterday (just finishing day 2)
- I work a great career, and was able to buy my first house last month
- My biggest passion outside of work is Poker, and I will be playing in the World Series of Poker in 2015
- I want to lose weight, be in great shape, continue with my work and my passion
- Goal 1: 250 lbs (timeline 4 months)
- Goal 2: Play 30+ hours of live poker a month (starting July 1st)
- Goal 3: Update this journal regularly with Primal stories, poker stories, and life stories
- Goal 4: LGN (You know what I'm talking about Mark!)
- Goal 5: Keep being happy and grateful for the life I have
- Goal 6: Play in the World Series of Poker Main Event in 2015... And win.
- Goal 7: Have more "regular" goals (weekly, monthly, etc)
Alright, as promised... Insert the happy tall fat man!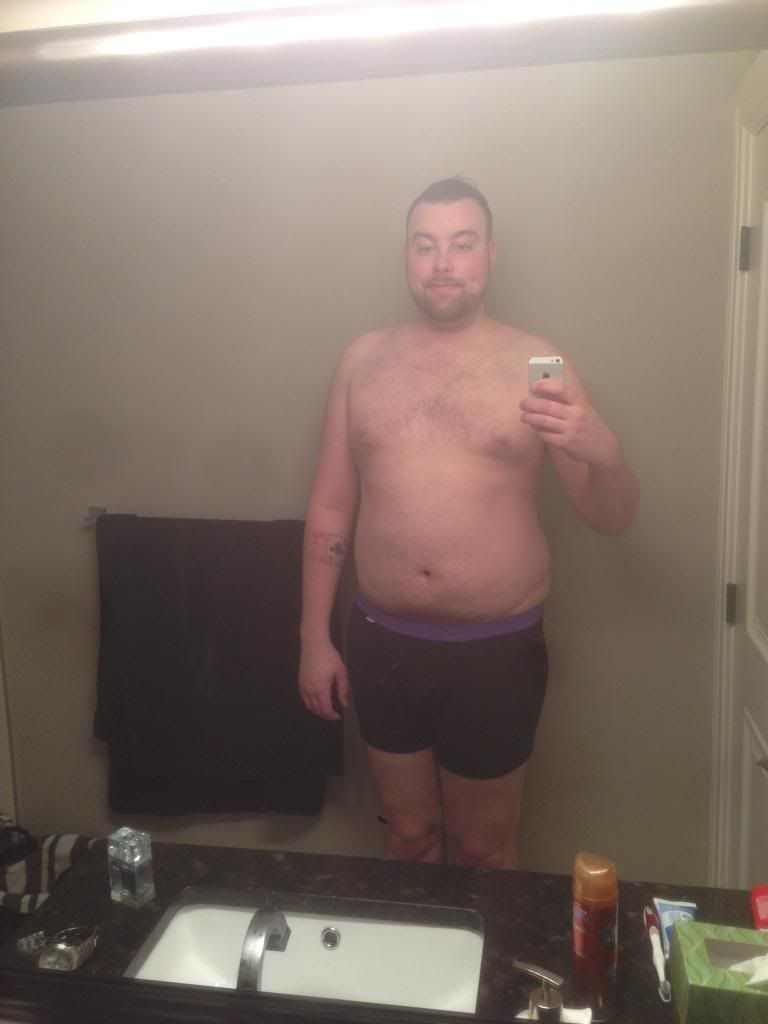 And sexy fat profile: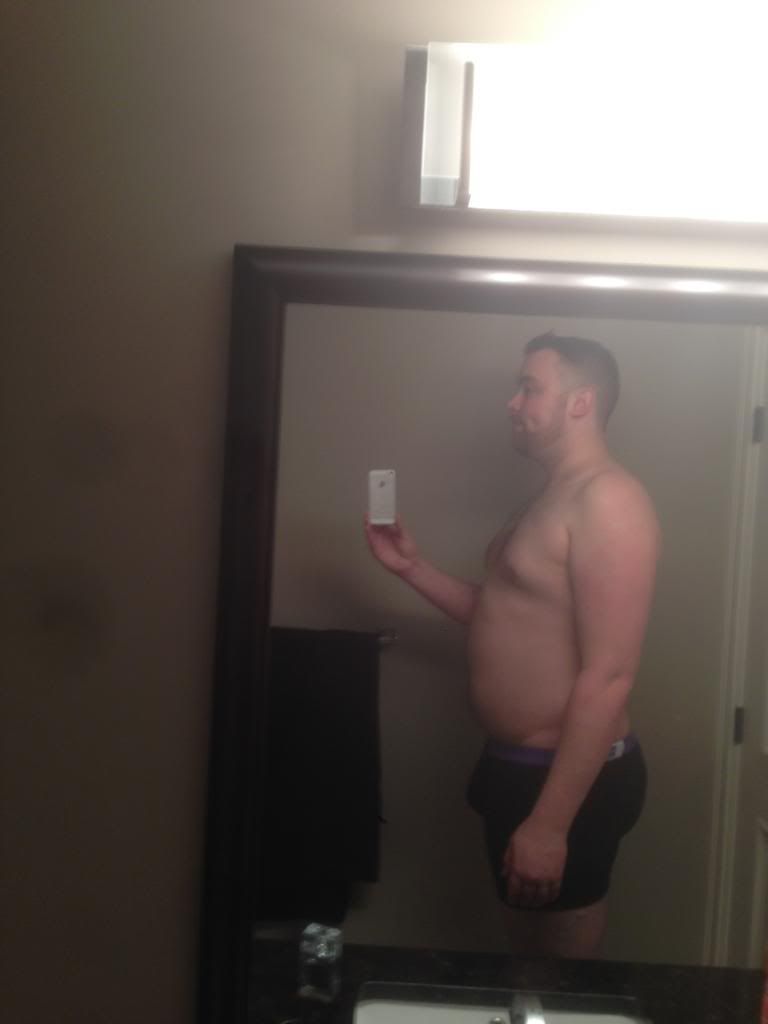 Hit me up with that backside: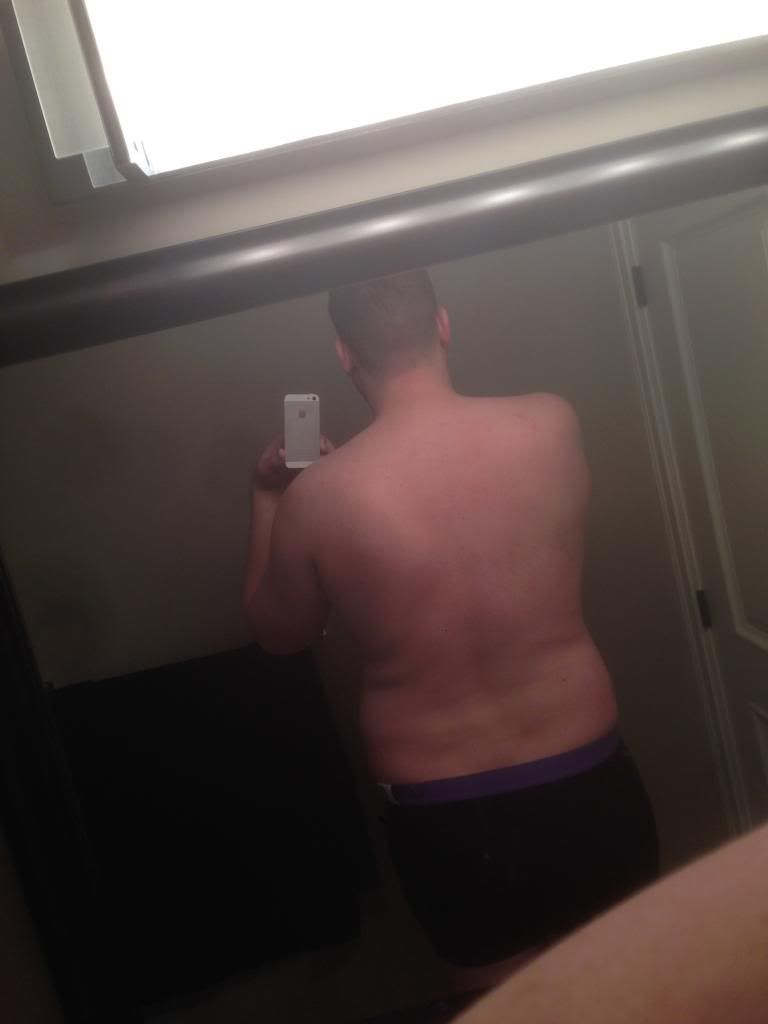 There you have it folks. To end the post, nothing is ever wrong with a little motivation. To get what you want in life, to truly earn it and have it in it's purest form, you have to NEED it:
Thank you,
- Jim