20 Worst Drinks in America 2010

Take a few minutes and click through these. Your level of disgust will grow a little with each passing image. I love the idea of setting the drink against the equivalent amount of junk food.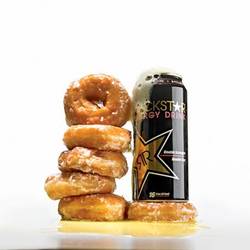 There is something really crazy about seeing a Krispy Kreme Lemon Sherbet Chiller sitting amongst 16 medium chocolate eclairs, or an Arizona Kiwi Strawberry (Vitamin C fortified!!) cuddled up with 7 (SEVEN!) bowls of Fruit Loops and trying to imagine how they could pack that much shit into one drink. Mind blowing stuff, to say the least.
I know that there are some monstrously bad drinks out there, but the top 8 made me realize I didn't really know just how bad some of this garbage is. I could eat a LOT of food in a day and be fully satiated, or just chug down the #1 worst drink in America and be done with it in 5 minutes!