I've been craving a warm hearty casserole for a while, and stumbled upon this one being shared on the web.
I don't normally share recipes, but man, this sounds like something I can eat every night!
There's about two pounds of vegetables, and two pounds of meat packed into it!
Only draw back is that it has cheese
, but I've never been dairy sensitive myself.
Perhaps someone knows of a good dairy-free alternative for other Primal forum users?
MUSHROOM CHICKEN AND SAUSAGE CASSEROLE - Linda's Low Carb Menus & Recipes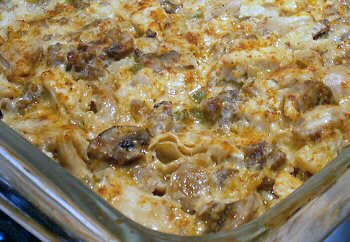 MUSHROOM CHICKEN AND SAUSAGE CASSEROLE
3-4 cups diced cooked chicken
1 pound pork sausage
1 stalk celery, chopped fine
1 tablespoon onion, chopped
1/2 pound mushrooms, sliced
8 ounces cream cheese, softened
16 ounce bag frozen cauliflower, cooked well and drained
8 ounces cheddar cheese, shredded
Salt
1/2 teaspoon pepper
Paprika, optional
Brown the sausage with the celery, onion and mushrooms. Stir the softened cream cheese into the sausage mixture until well blended. Coarsely chop the cooked cauliflower. Mix all of the ingredients and spread in a greased 9x13" baking dish. If desired, dust the top with paprika. Bake, covered with foil, at 350º for about 30 minutes. Uncover and bake until hot and bubbly and the top is lightly browned, about 10-15 minutes.
Per 1/8 Recipe: 550 Calories; 40g Fat; 42g Protein; 6g Carbohydrate; 2g Dietary Fiber; 4g Net Carbs