My friend that owns Green Light Jerky (awesome jerky btw you should try it out) told me about this site back in July. He explained to me he had lost weight, felt awesome, and in general had really turned back the clock. At the time, my mother was dying slowly of colon cancer, and i was facing another (3rd) surgery for my chrons which would have me losing another 2-8" of small intestine ... I was 34 years old, and had weighed in at the doctor at 305lbs that March. I know I had to have been 5-10lbs heavier by this time as well.
Ever since i can remember I was chubby and then fat ... even as a kid i remember being over 200 lbs in 5th grade. My family grew up poor and italian and our diet consisted of 3 things. carbs (pasta, bread, rice, anything to stretch meals), beef (grandfather owned a farm), and sweets (I mean little debbie, cakes, cookies, etc at all times, i used to sit down and eat 2 boxes of little debbie when i was in high school) ...
Senior year of high school i went on a radical diet (for me) .. no sweets, no fried foods . in fact the only thing i ate was 1 box of pasta per day, wish gravy (sauce for most of you), no meat, just plain gravy .. I would go to the local YMCA and play basketball or work out from 3pm when i got out of school to 10pm when they closed. in 7-8 months I was down to around 225 (probably was 290 before that) ... and i kept working out 3-4 hours a day to maintain this .. all the while eating basically whatever i wanted .. I got chrons at 20 years old (i still believe it had to do with the all carb diet), i was basically on my death bed and had to have emergency surgery where i lost a section of my stomach, 3 sections of intestine, and a section of my bladder..
Then, at 25-26 age and sedintary lifesyle and job started creeping up on me, and i started gaining weight.. slowly building up to where i was 8 months ago .. generally feeling like crap .. joint pain, bad back pain, no self esteem when it came to looks (although i still thought i was the shit LOL) . stomach issues from chrons always bothering me, etc ...
my mom was dying fast and it scared the hell outta me ... im married, and my wife and I didnt meet til i was 30.. ill never have enough time with her, shes AWESOME.. she is beautiful and loved me from day 1 regardles of weight etc.. but, we want to have kids in time and i always worried with my health i couldnt keep up.. basically, it was about damn time for a change, and i was too smart to think weight watchers etc or any of that crap could do it .. GLJ came through for me and showed me about Primal/Paleo .. it made SO much sense .. i mean ofcourse they have convinced us that the whole wheat it healthy its 10,000% profit and they dont care if we die .. i went full in.. i gave aaway about $200 worth of food and canned goods and boxed dinners, pasta, etc to a friend (who has since turned primal
and told my wife i needed to do this... she was vegetarian at the time simply trying it for a month or so to see if she felt better.. after about 4-5 days of me eating eggs and bacon for breakfast, and having lost 8-9lbs already she gave in and joined forces, and we havent looked back (btw she was about 145 when she started, 5'2" and 28 years old .. now is 114!) ...
right away i noticed less pain, better sleep, a clearer mind .. i didnt hit carb flu (she did), and i coasted through a huge weight loss so quickly people i knew couldnt believe it ... in a month or 2 i looked like a new man .. and 8 months later i FEEL like a new man .. i feel 18 again ..my chrons symptoms are pretty much non-existent, i feel like i look great .. i still have a ways to go and ofcourse clothes make me look more fit than I am .. but i didnt even start working out until about a month ago ... maybe 1.5 months ago .. doing light cardio, 100 pushups in 100 days, and light lifting at home ..
any old way .. from 305lbs + July 23rd (day after my bday) to this morning still weighing in at 199lbs ..
here are a couple before/after pics
thank you for letting me vent out my excitment... i hope to be 185 or so in the end, although at 6'2" and a big frame, im unsure where i will land. .. i just know i have some more to go .. but that can take its time, its time for ME to enjoy life!!!!!!!!!!!!!!
my wedding day (10-10-2008)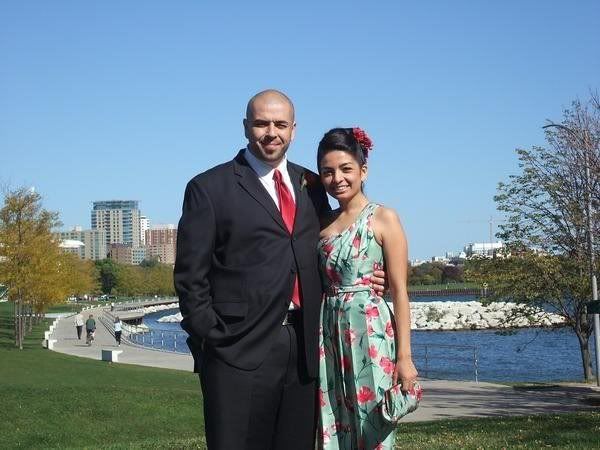 you can see here by this face shot that by 2011 i was definetely bigger
a few days back at work .. (ive gone from 44 pants to 33-34, XXL shirts to M-L)
face shot comparison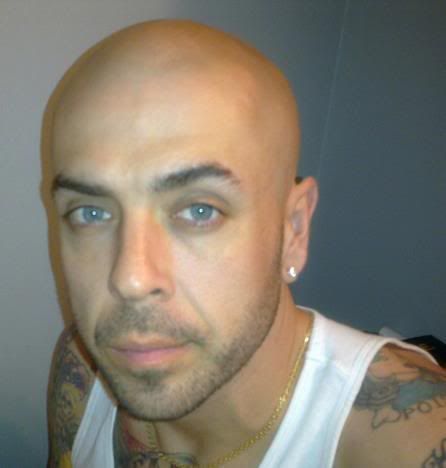 theres a link to my journal in my signature .. you can see as i tracked the weight .. but damn, i just needed to show off a little to my friends on here that know what we are all going through.. i have started a local group to support this lifestyle and im spreading the word as i can .. converting people, and will be holding get togethers this summer revolving around our FANTASTIC way of living!!!!!!!!
thank you ALL!!!!!!!!!!!!!!!!!!!!!